Your Address = 35.175.191.150 Not Logged In

| | | |
| --- | --- | --- |
| | The Tennessee Campers on Mission NewsLetters Page | |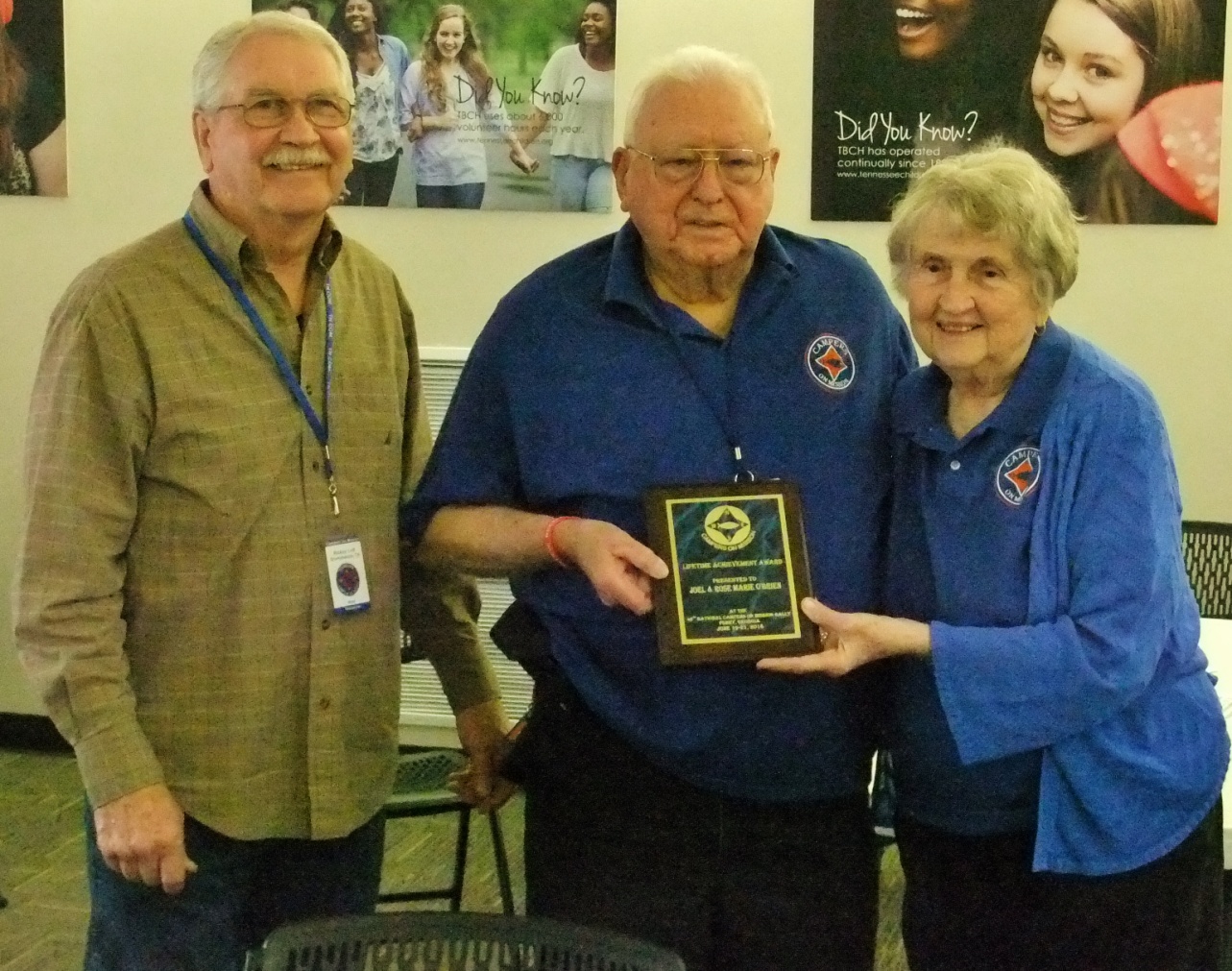 Joel and Rose Marie O'Brien were presented with a LIFETIME ACHIEVEMENT AWARD at the Tennessee COM State Rally in Chattanooga on April 6, 2019. Rickey Lott, TN COM State President made the presentation on behalf of all TN COM members.
The O'Briens have been active members of COM since Joel's retirement from TVA in 1988. They were encouraged to join by a couple from Kentucky who were COM members in that state. Joel and Rose Marie were looking for a way to use their retirement years to benefit others and believe that COM was a good match for their personal skills.
Joel has served as East Tennessee Regional Coordinator since 1991 and has been on the TN COM Nominating Committee for the past ten years. They both have served on many building and maintenance projects in additional to their leadership roles. They became "full time" campers in 2000 and participated in projects in Tennessee and Alabama during that period which lasted 2 ½ years. That was followed by many years participating in projects using their camper part time.
Some of the O'Brien's fondest COM memories include spending a winter at Carson Springs Baptist Conference Center working on the Stokely Chapel as well as building the eleven site campground that has been used by many other camper volunteers in subsequent years.
They also worked several winter seasons at the Baldwin County Baptist Conference Center near Gulf Shores, Alabama. Most memorable at this site was construction of a nine-hole miniature golf course that has been used by thousands of youth and adults. The COM volunteers used left over concrete from a large building construction to pour each of the golf holes and installed carpet donated by a local business. COM members constructed scorecard stands at each hole that included the "Roman Road" Bible verses that are often used to help people make decisions for Christ.
Another memorable project was construction of a new church at Vonore, TN. When construction began the church was Methodist affiliated. However, after experiencing the generosity and fellowship with the Baptist COM members, the church members decided to become a Baptist affiliated church. Several current TN COM members participated on this project. They returned a couple of years later to add an education wing due to the growth in the congregation at Walnut Grove Baptist Church.
While Joel and Rose Marie are no longer able to participate as actively in COM projects, they continue to visit with COM members when projects are near their home in the Chattanooga area. Their last 30 plus years have truly been rewarding both to them and to many others.